Presentation of Kochatelier Ratatouille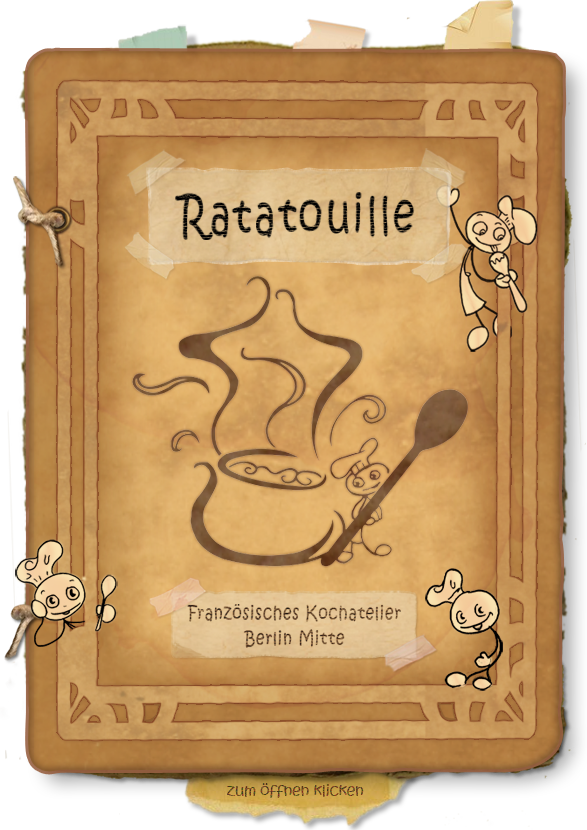 Ratatouille Berlin is a French cooking class in Berlin for everyone : alone, in a group, with your firm or friends. We provide a wide range of original sophisticated recipes easy to recreate at home.
At Ratatouille Berlin we seek to create a workshop that combines French cuisine and cultural exchange in a cozy atmosphere.
We prepared several offers for you, either for individuals or for professionals, in order to offer you a range of events: birthdays, bachelor/ette parties, team building, business seminars, etc.
Furthermore, you can follow several recommendations: Which dishes can be combined? What tricks can I use to make cooking easier? How do I cook seasonally? What suggestions do French cuisine and culture offer?
The studio, in which we welcome you, is located in Berlin Mitte. It has been equipped and designed to guarantee pleasant cookings and dining space for groups up to 70 people.
The Kochatelier Ratatouille Berlin in few words, its :
Cooking together
Original and easy
Flexible
French touch
---
Genesis of the Kochatelier Ratatouille Berlin
In the beginning, "Ratatouille" symbolized Moïra's passion for cooking and eating: in her cooking space in Berlin Mitte, she invites you to discover French culture through the kitchen. Having grown up in a multicultural environment, for her, this means paying special attention to all the culinary influences of French cuisine.
Tracing the secret of this famous cuisine, Moïra learned from various chefs in Paris. She had the idea for her cooking studio when she saw how much they enjoy cooking together in Germany and especially Berlin.
Why ratatouille ?
Ratatouille is one of the most famous dishes in French cuisine. The stewed vegetable dish with eggplants, onions, zucchini, tomatoes, peppers and garlic is originally a traditional dish of the city of Nice. Nowadays, it is also cooked outside of southern France and in countless variations. The various Mediterranean vegetables are cut into small pieces, fried and then braised. Herbs de Provence such as savory, rosemary and thyme are often used to infuse flavor.
This is the reason why Ratatouille stands for popular and modern French cuisine.
The word ratatouille probably comes from the provincial term "rata", which means "simple food, poor people's food". Nevertheless, a simple dish can turn into a memorable experience with a few tricks and details. And that's what the Ratatouille cooking class is all about!
Today, French cuisine has not only preserved its tradition, but also many prejudices and clichés. It is considered elitist and complicated, complex and noble. At Ratatouille this myths are forgotten.
At Ratatouille, our products are mainly purchased from REWE, Frisch paradies and BIO COMPANY! We pay special attention to the quality of our products!
---
About Moïra & Lucie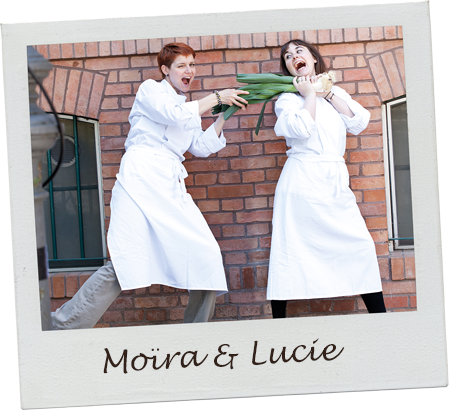 With Ratatouille, Moira would like to invite you on an excursion into French culture! The French woman with German roots spent her childhood in Quebec. Enjoying food, thinking and talking about it for hours, cooking together - that is her passion!
She was born into a multicultural world and grew up there. And could there be a better place than Berlin to explain and experience the fact that French cuisine and culture is more multicultural that you think?
You will like the way she cooks, no fancy, but easy to learn! It always works and tastes good too!
In Paris she learned from different chefs - on the trail of the secret of this famous cuisine.
Her associate Lucie is always by her side - a real Parisian. The real Parisian, who decided to live in Berlin seven years ago, but who likes to report on Paris with Russian roots and reflecting on culture.
Get to know our secrets and take a piece of France with you !